OUR TOP PICK: TRUE FINANCIAL FREEDOM
CHRISTIAN FINANCIAL CLASS FOR YOUR CHURCH OR YOU
Looking for Christian financial education for your church, small group, or even just for yourself?

Our brand new True Financial Freedom 6-session course is a Biblically-sound financial class where you don't just learn textbook theory but the exact apps and tools that we use to simplify your financial life.

It's kind of like having coffee with friends who are here to encourage and inspire you and rekindle the dreams God put in your heart.
WE HELP YOU LIVE TOTALLY FREE FOR THE ADVANCEMENT OF THE KINGDOM
The True Financial Freedom class is a whole new way of looking at money.

Less about constantly saying NO with your money and more about discovering the freedom to say YES.

Less penny-pinching and more thriving in your God-given gifts and talents.
YOU CAN'T SERVE GOD AND MONEY, BUT YOU CAN SERVE GOD WITH MONEY
As Christians, we have a different set of money rules.

Yet most of us are unknowingly playing by the world's rules and wondering why it isn't working out. We help you tap into the unfair advantage we (as Christians) have with our financial lives.

We help you quickly and easily get your money sorted out because you need to get on with your life and the work God has called you to without money getting in the way.

When it comes down to it, we believe that you cannot serve God and money, but you can serve God with money.
SPEND LESS TIME THINKING ABOUT MONEY AND GET FAR BETTER RESULTS.
Here's the thing. You don't have to be a financial expert or spend 10 hours a week budgeting, or read 100 money books to succeed financially.

We focus on teaching our set-it-and-forget-it methods of managing money because we always prioritize simplicity.

This leaves you with a simple money system that will help you spend less time managing money than you currently are.

So you have more TIME and more MONEY to spend on what is important to you. Oh, and all without any guilt or having to live like a miser.
MONEY IS SIMPLY A TOOL GOD PROVIDES TO HELP US DO THE TASK HE'S GIVEN US
True financial freedom is less about yachts and private islands and more about being free to fulfill your God-given purpose.

Money is simply a tool God provides to help us do the task He has given us.

Sure, when you can afford it, get your private island and send us an invite 😉 but the key is always in seeking Him first, never the stuff.
COURSE OVERVIEW
The True Financial Freedom class/workshop is divided up into 6 on-demand video sessions designed to last about 75-90 minutes each. Each session is full of specific and practical action steps, real-life stories, life-changing revelations, and dare we even say… fun.

Each session is divided up with multiple breaks for simple discussions and is designed to help students stay engaged throughout.

Each lesson is Biblically sound and designed to inspire and give hope in this area of finances where there is so much guilt and shame present.

Of the 6 sessions, sessions 1-3 are focused on getting positioned to have a thriving financial life. In sessions 4-6, we focus on accelerating so that we can begin making quicker progress toward our financial goals.

"Bob's giving away all of the tips, tricks, and tactics he's employed to personally overcome $400,000 in debt and hit his own generosity stretch goal of giving away a million dollars. His story is amazing, but it doesn't have to be unique! (It's) full of big steps made in faith, and it's also full of practical, actionable advice to help you reach your own financial goals."

–Mark Batterson, Pastor & NY Times bestselling author
HOW TRUE FINANCIAL FREEDOM IS LAID OUT:
➤ Session 1: Hope & Vision

In 2 Chron 20, God required Judah to show up to the battle line (even though He was fighting the battle for them).

The same is true with our finances… The Battle Is His, but We Have to Show Up!

One practical way we show up to the battle with our finances is by tracking exactly what God has entrusted us to manage.

This is because we are not owners but managers of everything in our possession.

In this session, you'll be given the assignment of calculating what we call Assets Under Management (a term we feel is more Biblically rooted than 'Net Worth'). This number will serve as our "scoreboard" moving forward to motivate you toward progress and show you exactly how to manage your resources well for your success & His glory!

➤ Session 2: Design Your Blueprint

Here's the problem: You can learn tactics on how to save more money, how to increase your income, or how to invest, but none of that matters if you're spending 105% of your monthly income.

If you want to succeed financially, you have to start with the Never 100 Rule.

Simply put, the rule is this: never spend 100% of your monthly income. It doesn't matter how wildly your income fluctuates; do absolutely everything in your power to never spend 100% of what you earn in a given month. By doing so, you will be able to give with joy and set the foundation to save/invest for the future.

In this session, students are given 3 different approaches that will clarify spending habits – and you'll leave more motivated than ever to tell your money exactly where you want it to go.

➤ Session 3: Simplify & Declutter

Now that you know the Never 100 rule, how do you use it?

In this lesson, I'll show you how to use the the "Straight-A Strategy" as your step-by-step process to achieve the Never 100 rule consistently, month-after-month, year-after-year:
Pay Attention – According to Pearson's law, when performance is measured, performance improves.
Start Automating – Financial success never depends on willpower; instead, make the most important financial tasks automatic.
Make Adjustments – Have a plan before your income fluctuates so you can manage the peaks and valleys of your finances with grace.
Get Accountability – Make your money go where YOU want it to go through simple budgeting that makes accountability effortless.
Regardless of whether your income follows the curve of a pro athlete, a career janitor, or anything in between, the Straight-A Strategy will accelerate your financial and generosity goals faster than you thought possible.

➤ Session 4: Earn (More) With Purpose

Earn more–with purpose–through your God-given gifts!

Whether you're an employee, freelancer, stay-at-home parent, business owner, or anything else, you were meant to thrive in the work that God created you to do.

In this session, we'll show you how:

You'll begin by identifying skills to better serve your boss, clients, co-workers, or anyone else with what we call the '11-star experience' exercise (that AirBNB claims as a 'secret sauce' to their success).

We're giving you the keys to earning more in the digital era so you can stop dreading Monday morning and actually enjoy meaningful work that supports your financial goals.

➤ Session 5: Make Eternal Impact

Are you ready to see giving in a whole new light?

We believe our financial success shouldn't be measured by how much we accumulate but by how much we give.

So in this session, we'll shift your view of giving from an unwelcome obligation into the real adventure of a lifetime that God invites us to join Him on.

Plus, we'll let you in the practical strategies we've used to grow in generosity and make giving more fun than you would ever imagine.

➤ Session 6: Multiply & Enjoy

Did you know–in less than 30 years, every human on the planet could have their own apple orchard. All it would take is the well-managed seeds from one single apple.

The connection to our lives is clear: when we work with (and not against) God's system of Multiplication, financial progress is simple and exponential.

How do we work with God to get this benefit? By never eating all our 'seed'!

According to 2 Cor 9:10, some is meant to be eaten, and some is meant to be given (and invested). This means taking a percentage every month to give, save, or invest.

In this session you will learn practical ways to "plant seeds" that will grow for you in the natural realm (through compound interest) and in the spiritual realm (through our giving).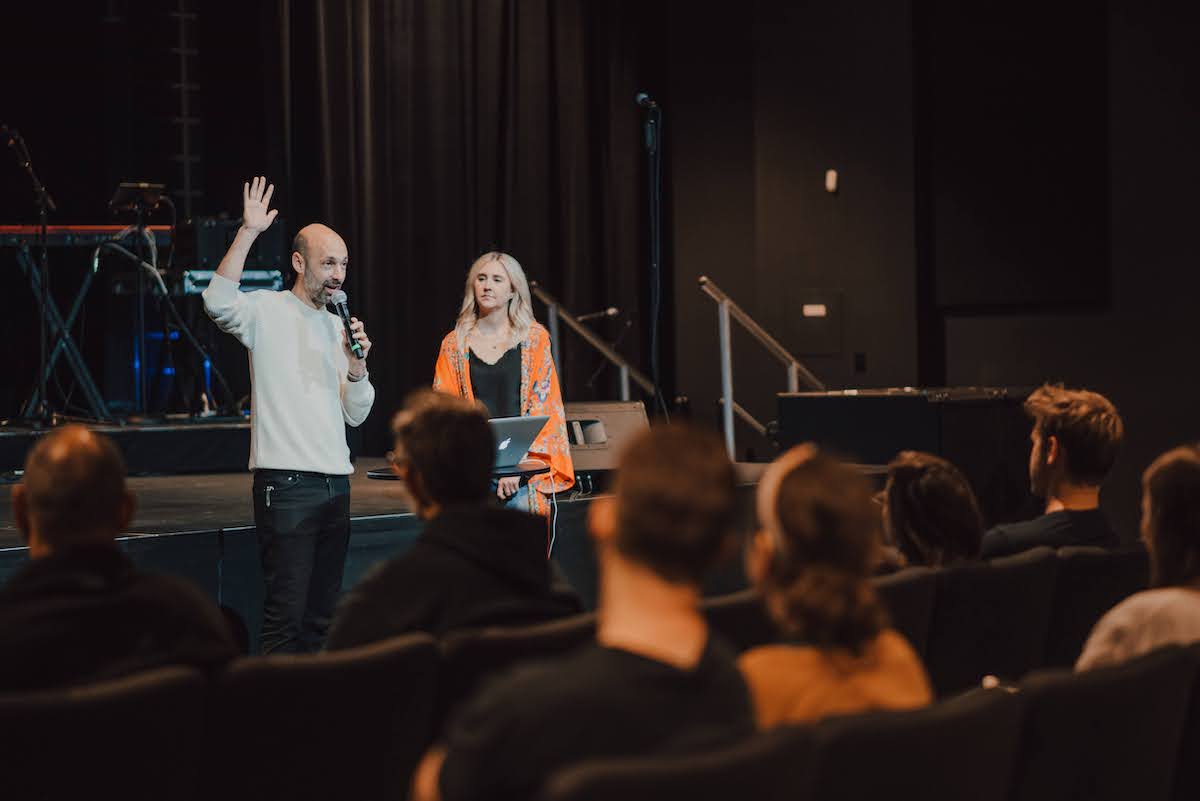 READY TO GET STARTED? HAVE MORE QUESTIONS?
Click one of the buttons below to get pricing details and get answers to your other questions!

TFF INDIVIDUAL PRICING | TFF GROUP PRICING
AVAILABLE FORMATS:
1. INDIVIDUAL & COUPLES
You (and your spouse) can go through the class with our on-demand class. Many couples like to fast Netflix/Hulu for a week and just watch a session of TFF each evening (with a big bowl of ice cream) 😉 but we aren't picky. You can choose whatever snacks you like and whatever pace works best.
2. ON-DEMAND FOR CHURCHES & SMALL GROUPS
This is the best option if you have a group that you would like to go through the course together with, in a group setting. Anyone can be a facilitator because basically all that is required is to press play and then host a giveaway each week (which we will provide).
3. LIVE FOR LARGER GROUPS (100+)
Occasionally and as schedule allows, we will present the class for a large group over Zoom. This is great for those groups who want more of a personalized interaction with us and want to be able to ask us questions directly.
WHAT STUDENTS ARE SAYING…
ABOUT BOB LOTICH, CEPF®
Bob Lotich found himself at his breaking point in his early 20's overwhelmed by debt and stranded 1,000 miles from home with only $7 to his name. After crying out to God for wisdom and discovering a simpler (and far more effective) approach to money, he reached a level of financial freedom he never dreamed possible: having a paid-off house by age 31 and even reaching a personal goal of giving $1 million by age 40. For the last 14 years, he's shared his best lessons with over 50 million readers and listeners on his award-winning blog, SeedTime.com, and SeedTime Money Podcast.
ABOUT LINDA LOTICH
Linda has spent a lifetime perfecting the art of avoiding boring conversations. Though her financial life was a mess (carrying guilt for making bad decisions and so much shame she didn't even know how to ask for help), she just prayed it would all work out. And one day, she met the man of her dreams (named Bob), and he had no problem taking her mess and creating all the pie charts and spreadsheets.

But as time went on, she began realizing how investing a little time in something she typically found boring could actually open up the adventure of a lifetime with God!

Pair that with a snack or two, and Bob's simple approach to a typically complicated subject, and all-about-fun-Linda became the girl who is ready to talk finances…in a fun way, obviously.


FAQS
Will there be homework?


Yes, each week, there will be a little bit of (very simple) homework for you to complete to put action to what you learned.

Can I bring my spouse?

Yep, your spouse gets to come along for free! If you want to bring a larger group, please contact us for discounted group rates.

How is this different from FPU?

It has some similarities, but generally, students say TFF is more Biblically focused, and yet at the same time leaves the student with more specific practical action steps. It is less theory and more practical application.

Students have also commented that it feels more inspirational, hopeful, and grace-filled than FPU.

How is True Financial Freedom different from your other courses?

This is completely different than our other courses (Real Money Method, 10x Investing, Pay Off 10k). TFF is more of a Biblically based all-in-one financial class, whereas our other courses are very narrow and topically focused.